CRITICAL KUSH STRAIN
Cup Winner
Critical Mass Strain x OG Kush Strain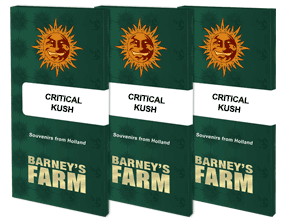 Critical Kush Cannabis Seeds
Type: Feminized strain
Critical Kush Strain by Barneys Farm
Critical Kush is an exceptional cannabis strain that has been expertly crafted through a meticulous breeding process, blending the legendary Critical Mass with our very own OG Kush. This unique combination results in an extremely robust and potent Indica-dominant plant that produces substantial quantities of potent Kush.
The cannabis connoisseur can relish in its sticky, resinous texture, adorned with crystal-covered buds exuding a tantalizing aroma.
Moreover, this novel hybrid strain is a significant advancement in modern marijuana breeding, as it presents a unique opportunity to appreciate the best qualities of two iconic strains. With its Indica-dominant nature, Critical Kush is particularly ideal for relaxation, pain relief, and late-night smoking.
The vigorous growth and overall plant structure of this Critical Kush strain are noteworthy, as it exhibits medium-height growth and flowers within just eight weeks. This early flowering period makes it an attractive option for cultivators looking to maximize their yields in a shorter timeframe.
Is Critical Kush Indica or Sativa?
The Critical Kush strain by Barneys Farm is 100% Indica.
What is the best way to store my Critical Kush strain seeds?
To properly store Critical Kush seeds, it is recommended to keep them cool and dark in an airtight container ideally in a refrigerator with proper labeling and dating, avoiding freezing.
What is the best method to germinate Critical Kush strain seeds?
There are numerous techniques for germinating Critical Kush cannabis seeds if it is allowed in your location. The paper towel method is a common method in which the Critical Kush seeds are placed on a damp paper towel and covered with another damp paper towel to keep them moist. After that, keep the paper towel in a warm, dark spot and check on it every day to ensure that it remains moist. When the Critical Kush seeds have germinated, gently place them in soil or similar growth media.
Critical Kush strain cannabis seeds are sold strictly for souvenirs, storage, and genetic preservation.
Critical Kush Strain Specifications
Feminised
Critical Mass Strain x OG Kush Strain
Normal
100%
55 - 60
3rd-4th week - September
100/110cm
up to 650 gr/m▓
up to 100/110cm
up to 1000
Fresh Pine, Lemon Pie, Tangy
Earthy, Herb, Fuel
SPECIFICATION
Feminised
Critical Mass Strain x OG Kush Strain
Normal
100%
55 - 60
3rd-4th week - September
100/110cm
up to 650 gr/m▓
up to 100/110cm
up to 1000
Fresh Pine, Lemon Pie, Tangy
Earthy, Herb, Fuel