RUNTZ STRAIN
Zkittlez Strain x Gelato Strain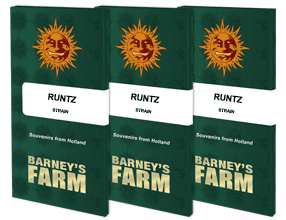 Runtz Cannabis Seeds
Type: Feminized strain
Runtz Strain by Barneys Farm
Allow me to tantalize your senses with the allure of our Runtz strain, a hybrid strain that is the epitome of premium cannabis. This seductive strain is the result of crossing two classic cultivars, Zkittlez and Gelato, resulting in a divine creation that is sure to leave you spellbound. Runtz is a fast-growing plant, maturing in just 55-60 days, with a modest indoor height of .9m-1.10m and an outdoor height of 1.5m-2.0m. However, don't let its size fool you, as this exquisite plant is renowned for its incredibly high THC levels, ranging from 25 to a mind-blowing 29%. Indulge in the sweet and fruity aroma of Runtz's terpenes, with a tantalizing hint of sour citrus that lingers on the palate long after the first puff. The strain's impressive indoor output of 550g/m2 and up to 1.5kg outdoor yield showcase its capacity to produce thick and resinous buds that are as visually attractive as they are potent.

The buds are covered in a solid layer of trichomes, giving them a glittering frosty look that is sure to captivate your senses. Runtz offers an unparalleled sensory experience, with its unique terpene profile, potent THC percentages, and high yields making it a strain that is definitely worth experiencing. Surrender yourself to the enchanting jewels of our Runtz strain today!
Is Runtz Indica or Sativa?
The Runtz strain by Barneys Farm is 50% Sativa 50% Indica.
What is the best way to store my Runtz strain seeds?
To properly store Runtz seeds, it is recommended to keep them cool and dark in an airtight container ideally in a refrigerator with proper labeling and dating, avoiding freezing.
What is the best method to germinate Runtz strain seeds?
There are numerous techniques for germinating Runtz cannabis seeds if it is allowed in your location. The paper towel method is a common method in which the Runtz seeds are placed on a damp paper towel and covered with another damp paper towel to keep them moist. After that, keep the paper towel in a warm, dark spot and check on it every day to ensure that it remains moist. When the Runtz seeds have germinated, gently place them in soil or similar growth media.
Hemp Seed Certificate of Analysis
Runtz strain cannabis seeds are sold strictly for souvenirs, storage, and genetic preservation.
Runtz Strain Specifications
Feminised
Zkittlez Strain x Gelato Strain
Normal
50%
50%
55 - 60
3rd-4th week - September
90-110cm
up to 600 gr/m²
up to 150 – 180cm
up to 1.5kg
Sweet Candy, Fruity, Skunky Diesel
Tropical Fruits, Diesel, Sweet Candy
SPECIFICATION
Feminised
Zkittlez Strain x Gelato Strain
Normal
50%
50%
55 - 60
3rd-4th week - September
90-110cm
up to 600 gr/m²
up to 150 – 180cm
up to 1.5kg
Sweet Candy, Fruity, Skunky Diesel
Tropical Fruits, Diesel, Sweet Candy