RUNTZ X LAYER CAKE STRAIN
Runtz Strain x Layer Cake Strain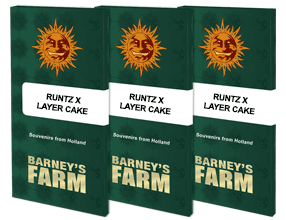 Runtz x Layer Cake Cannabis Seeds
Type: Feminized strain
Runtz Layer Cake Strain by Barneys Farm
Introducing Runtz x Layer Cake strain from Barney's Farm, this will be the 2022 strain of the year! it really is in a class of its own, one of the most exciting creations for many years and a must try this summer.
Meet the Runtz x Layer Cake parents!
Runtz strain has already taken the world by storm with its delicious combination of unique flavours and aromas crossing these two proven and class genetics Zkittlez and Gelato.
It goes without saying that all the genetics in this super hybrid deserve a place in our catalogue but at Barneys Farm our aim is to bring you exceptional unique strains.

Our Runtz x Layer Cake weed strain is a perfectly balanced 50% indica/sativa hybrid, very sturdy and forgiving producing multiple large oversized indica style dense forest green buds with deep amber undertones, bright orange hairs and a frosty coating of golden amber crystal trichomes.
27%
Outdoors in ideal conditions Runtz x Layer Cake reaches heights of 2m metres producing up to 2.5kg per plant.
Is Runtz x Layer Cake Indica or Sativa?
The Runtz x Layer Cake strain by Barneys Farm is 50% Sativa 50% Indica.
What is the best way to store my Runtz x Layer Cake strain seeds?
To properly store Runtz x Layer Cake seeds, it is recommended to keep them cool and dark in an airtight container ideally in a refrigerator with proper labeling and dating, avoiding freezing.
What is the best method to germinate Runtz x Layer Cake strain seeds?
There are numerous techniques for germinating Runtz x Layer Cake cannabis seeds if it is allowed in your location. The paper towel method is a common method in which the Runtz x Layer Cake seeds are placed on a damp paper towel and covered with another damp paper towel to keep them moist. After that, keep the paper towel in a warm, dark spot and check on it every day to ensure that it remains moist. When the Runtz x Layer Cake seeds have germinated, gently place them in soil or similar growth media.
Runtz x Layer Cake strain cannabis seeds are sold strictly for souvenirs, storage, and genetic preservation.
Runtz x Layer Cake Strain Specifications
Feminised
Runtz Strain x Layer Cake Strain
Normal
50%
50%
Cool, Hot & Temperate
65 - 70
1st-2nd week - October
100-130cm
up to 600-650 gr/m▓
up to 200cm
up to 2.5kg per plant
Citrus, Diesel, Earthy, Spicy
Tropical Fruits, Herbal, Sweet Spicy
SPECIFICATION
Feminised
Runtz Strain x Layer Cake Strain
Normal
50%
50%
Cool, Hot & Temperate
65 - 70
1st-2nd week - October
100-130cm
up to 600-650 gr/m▓
up to 200cm
up to 2.5kg per plant
Citrus, Diesel, Earthy, Spicy
Tropical Fruits, Herbal, Sweet Spicy