TANGERINE DREAM STRAIN
Cup Winner
G13 Stran x Afghan Strain x Neville's A5 Haze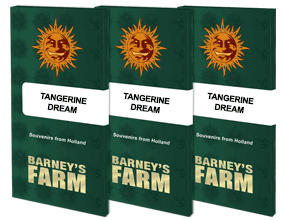 Tangerine Dream Cannabis Seeds
Type: Feminized strain
Tangerine Dream Strain by Barneys Farm
The Tangerine Dream strain is a highly sought-after sativa-dominant cultivar known for its unique tangy tangerine aroma and flavor profile. This strain's distinct terpene profile is due to the presence of high levels of the terpenes myrcene and limonene, which are also found in other citrus fruits.
25%
Despite its potent effects, our Tangerine Dream strain is relatively easy to grow and has a short flowering time of just 65 days. However, in the final weeks of its growth cycle, it will require some support to prevent the heavy colas from snapping under their own weight. This plant can grow up to a meter in height and boasts numerous side branches that yield an impressive 600 grams per square meter of harvestable flower material.
Is Tangerine Dream Indica or Sativa?
The Tangerine Dream strain by Barneys Farm is 60% Sativa 40% Indica.
What is the best way to store my Tangerine Dream strain seeds?
To properly store Tangerine Dream seeds, it is recommended to keep them cool and dark in an airtight container ideally in a refrigerator with proper labeling and dating, avoiding freezing.
What is the best method to germinate Tangerine Dream strain seeds?
There are numerous techniques for germinating Tangerine Dream cannabis seeds if it is allowed in your location. The paper towel method is a common method in which the Tangerine Dream seeds are placed on a damp paper towel and covered with another damp paper towel to keep them moist. After that, keep the paper towel in a warm, dark spot and check on it every day to ensure that it remains moist. When the Tangerine Dream seeds have germinated, gently place them in soil or similar growth media.
Tangerine Dream strain cannabis seeds are sold strictly for souvenirs, storage, and genetic preservation.
Tangerine Dream Strain Specifications
Feminised
G13 Stran x Afghan Strain x Neville's A5 Haze
Normal
60%
40%
60 - 65
1st-2nd week - October
90/100cm
up to 600 gr/m²
up to 90/100cm
Orange, Berry, Citrus, Sugary, Tropical
Intense Citrus, Berries
SPECIFICATION
Feminised
G13 Stran x Afghan Strain x Neville's A5 Haze
Normal
60%
40%
60 - 65
1st-2nd week - October
90/100cm
up to 600 gr/m²
up to 90/100cm
Orange, Berry, Citrus, Sugary, Tropical
Intense Citrus, Berries